Students and teachers will use GIS mapping to assess flood risks and help boost community resilience
Palm Beach, June 21, 2021 — EcoRise, the national sustainability education nonprofit inspiring a new generation of green leaders to design a sustainable future for all, and AT&T* are excited to join forces to advance climate preparedness and environmental justice in K–12 schools through a new education program.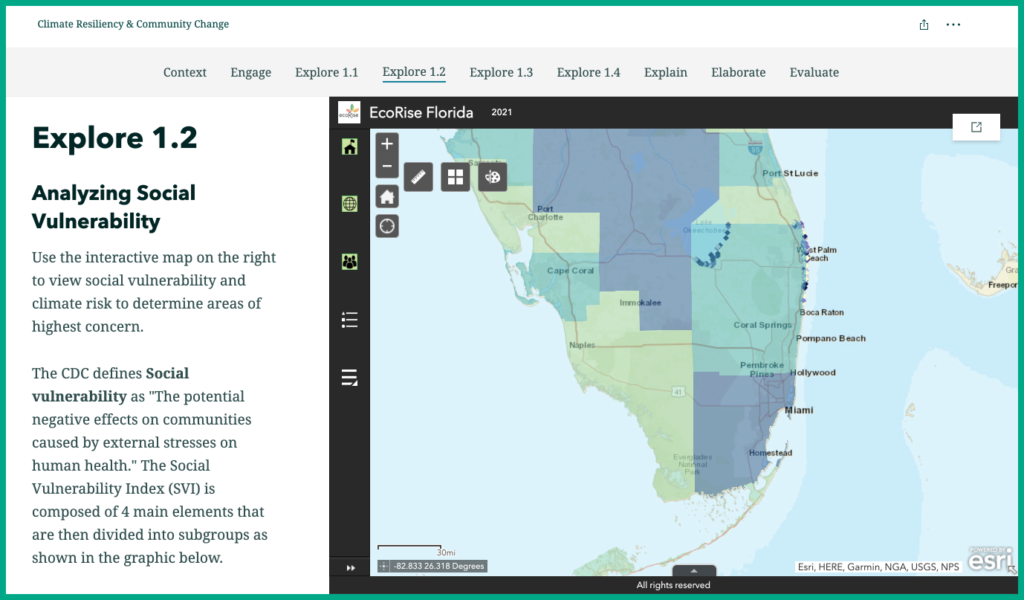 EcoRise is developing curriculum to help teachers and students engage with robust data sets through geographic information system (GIS) mapping and visualization programs. Students can use hyper-localized flood projection data to evaluate areas most susceptible to flooding and explore ways to create advocacy tools to engage their school and community in preparation strategies and climate resilience projects for areas most at risk.
Using hyper-local data commissioned by AT&T from the U.S. Department of Energy's Argonne National Laboratory and EcoRise's Gen:Thrive environmental education data visualization tools, the program will provide classroom activities and teacher training, enabling students to explore local connections between schools, climate risks, equity, environmental justice, health and economic indicators.
The data is part of AT&T's Climate Resiliency Project, an industry-leading effort to evaluate and address the risks of climate change. EcoRise's Gen:Thrive platform was developed to connect environmental education (EE) resources to communities that lack access, identify strategic partnerships and better understand EE's relationship to health, equity, climate change, and green career pathways. Together, these tools will enable students to design real-world projects related to preparedness and environmental justice in their communities.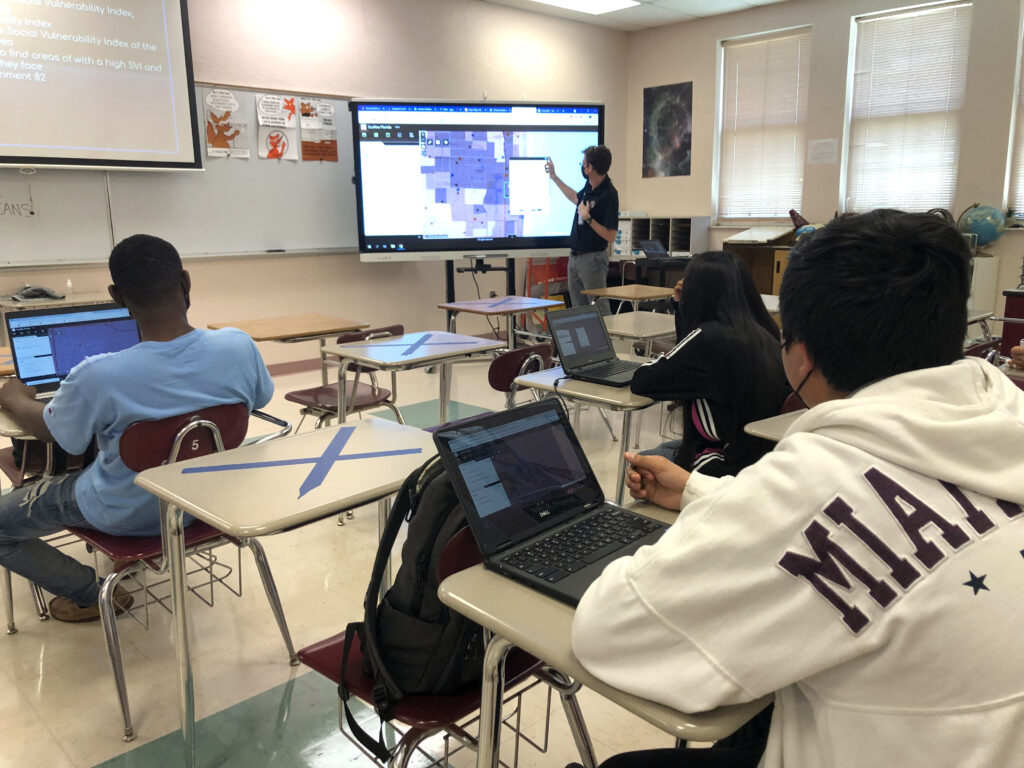 The program is currently being piloted in two Palm Beach County School District classes with plans to implement the feedback this summer in preparation for a larger-scale rollout of the program in the fall. By working with pilot teachers, AT&T and EcoRise plan to gather insights and recommended strategies for strengthening data application in K–12 school settings.
"I think that the science incorporated with the technology is really amazing. It's a lot of information that took a lot of time to collect, and that is really cool. It's fun to be able to visualize data" reflected a 9th grade pilot participant from Lake Worth Community High School.
"With the support of AT&T, EcoRise is able to design classroom materials that bring this hyper-local data to life, giving students the tools to explore and develop solutions for climate resilience in their own communities," said EcoRise Founder, President & CIO Gina LaMotte. "We are excited to continue improving our data and visualization tools, in order to provide ways for students to make a tangible impact on a local level."
"Data that helps assess the risk of climate change should be available to those who need it. That's why we're sharing the  climate data we have developed with Argonne National Laboratory with schools, universities, local governments, and others to use for their own climate risk analysis," says Shannon Carroll, director of global environmental sustainability at AT&T. "Together, we can build climate resilience in our communities."
To learn more about AT&T's Climate Change Analysis Tool, visit https://about.att.com/csr/home/environment/climate-resilience.html. To learn more about EcoRise's Gen:Thrive Tools, visit https://ecorise.org/our-work/gen-thrive/.
About EcoRise
EcoRise develops the next generation of creative problem solvers by enlivening conventional classrooms with academically aligned K–12 curricula that introduce students to environmental literacy, social innovation, and hands-on design skills. EcoRise is currently supporting 3,300 teachers in helping over 185,000 students solve real-world sustainability challenges concerning energy, water, waste, transportation, air quality, food, and public spaces. The program focuses on enhancing STEM education, promoting sustainability, introducing students to green careers, and helping students develop 21st-century skills. To learn more about EcoRise, visit ecorise.org.
*About AT&T Communications
We help family, friends and neighbors connect in meaningful ways every day. From the first phone call 140+ years ago to mobile video streaming, we @ATT innovate to improve lives. AT&T Communications is part of AT&T Inc. (NYSE:T). For more information, please visit us at att.com.