Classrooms are where youth learn the knowledge and skills needed to achieve a flourishing, equitable future. When integrating sustainability and climate education into classrooms, teachers become catalysts of change, helping their students create real-world impacts in their communities. Each year a group of dedicated, trailblazing educators are invited to join the EcoRise Teacher Ambassador program to hone their leadership skills and amplify their collective impact. EcoRise is excited to introduce you to the 2023–2024 cohort of 33 Teacher Ambassadors, our largest to date!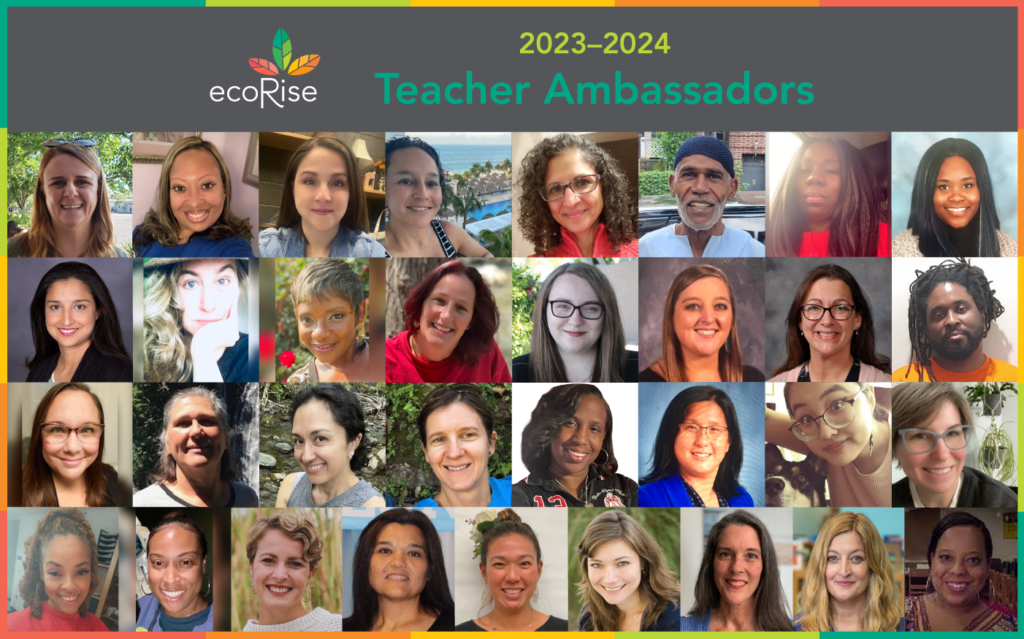 We selected outstanding educators from a competitive pool of applicants to represent EcoRise, inspire change, and support other educators in their communities to integrate sustainability and climate education into their classrooms this school year. This diverse group of K–12 teacher leaders hail from 12 different regions across the country from New York City to Sacramento, California to the Rio Grande Valley in Texas. The Ambassadors support EcoRise's mission, embody our core values, and are dedicated to activating students as changemakers in their communities.
This cohort of EcoRise Teacher Ambassadors is joining a national support network of passionate and talented educators focused on improving local environmental issues through social change by working with youth, adults, and community partners. They came together as a team at EcoRise's 6th Annual Summer Institute July 243rd–26th, in Austin, Texas. During the professional development experience, Ambassadors strengthened leadership skills; dug into environmental justice; explored design thinking and systems change strategies; and networked with like-minded educators from across the country. The event was made possible thanks to the Lakeshore Foundation, Love Tito's, and Southwest Airlines.
One Ambassador reflected "The Summer Institute has been a life-changing experience for me as an educator. The values and vision of EcoRise align with my own personal values and vision. I feel strongly about the work they are doing and want to be a part of this important movement. I feel a sense of urgency to educate our young people to be changemakers in a world that is struggling to survive because of human impact."
The 2023–2024 EcoRise Teacher Ambassadors cohort includes:
Fifth-Year Ambassadors
Aimee O'Brien—4th-grade teacher at Chacon Language and Science Academy in Sacramento City Unified School District (USD), Sacramento, California
Cherice Green—Innovation Coordinator at Friendship Technology Preparatory Academy, in Friendship Public Charter School, Washington, DC
Denisse Ochoa—Librarian at North Early College High School in Pharr-San Juan-Alamo ISD, Pharr, Texas
Jennifer Humphrey—Science teacher at Nimitz Middle School in North East ISD, San Antonio, Texas
Sabina Malkani—2nd-grade science and literacy intervention at Bruce-Monroe Elementary School at Park View in DC Public Schools, Washington, DC
Fourth-year Ambassadors
Earl Gray—Sustainability Coordinator at Harlem Renaissance High School in New York Department of Education, New York, New York
Nicole Nicholson—Environmental systems and AP environmental science teacher at Klein Forest High School, in Klein ISD, Klein, Texas
Octavia Wolf—5th-grade teacher at Barnard Elementary School in DC Public Schools, Washington, DC
Victoria Galvan-Garcia—World geography teacher at Pharr-San Juan-Alamo Early College High School located in Pharr-San Juan-Alamo ISD, San Juan, Texas
Third-year Ambassadors
Kelly Knight—Environmental science teacher at Katy High School at Katy ISD and adjunct professor at Houston Community College's Department of Astronomy and Physics in Katy, Texas
Tasha Messer—Kindergarten through 2nd-grade teacher at Winnona Park Elementary in City Schools of Decatur, Decatur, Georgia
Tina Coba— Instructional Specialist at Volma Overton Early College Prep in Austin ISD, Austin, Texas
Second-year Ambassadors
Aimee Quinn—Biology teacher at Westwood High School in Mesa Public Schools, Mesa, Arizona
Alaine Fowler—4th-grade math and science teacher at Highland Park Elementary School in Austin ISD, Austin, Texas
Amelia Cook— Instructor of Record for Inquiry Science Teaching and Teaching Science in Elementary Schools at the University of Oklahoma, Norman, Oklahoma
Garth Marchant—STEAM and after-school science teacher at Fannie Lou Hamer Freedom High School in New York Department of Education, The Bronx, New York
Kathryn Jimenez—4th-grade general and special education teacher at Boldt Elementary in Northside ISD, San Antonio, Texas
Laura Berenguer—High school special education teacher at Robert Renick Educational Center in Miami-Dade County Public Schools, Miami Garden, Florida
Nina Acevedo—Spanish teacher at the Magnet School for Math and Science Inquiry (PS/IS192) in New York Department of Education, Brooklyn, New York
First-year Ambassadors
Cate Bergman—6th-grade science teacher at St. Francis School in Austin, Texas
Cecelia Gillam—Environmental science teacher at Hahnville High School in St. Charles Parish Public Schools, Boutte, Louisiana
Celia Ayenesazan—Special education teacher at Hull Middle School in Gwinnett County School District, Duluth, Gorgia
Deborah Wang—Chemistry and physiology teacher at UCLA Community School at RFK in Los Angeles, California
Kelly Villanueva—Special education team lead at Medio Creek Elementary in Southwest ISD, San Antonio, Texas
Lauren Williams—Anatomy & physiology and environmental health teacher at Duke Ellington School of the Arts in DC Public Schools, Washington, DC
Nadine Spence—Math teacher at Barton Elementary in the School District of Palm Beach County, Lake Worth, Florida
Natalie Evans—Program & Marketing Director at OKC Beautiful in Oklahoma City, Oklahoma
Nelda Reyes— 6th-grade reading and language arts teacher at Raul Yzaguirre Middle School in Pharr-San Juan-Alamo ISD, San Juan, Texas
Noelani Ogasawara—1st- and 2nd-grade teacher at UCLA Lab School in Los Angeles, California
Rebecca Heneise—Principal at City Language Immersion Charter in Los Angeles, California
Sheila Dietz—8th-grade science teacher at Falcon Cove Middle School in Broward County Public Schools, Weston, Florida
Stacey Smith—Librarian at Govalle Elementary in Austin ISD, Austin, Texas
Tyler Colson—7th-grade social studies and hydroponics teacher at Eva Legard Center for Coastal and Environmental Studies in East Baton Rouge Parish School System, Baton Rouge, Louisiana
EcoRise is proud to be working with these trailblazing, environmentally-minded educators who are bringing climate action to life in communities across the U.S. To learn more about each of the 2023–24 Teacher Ambassadors, click here.