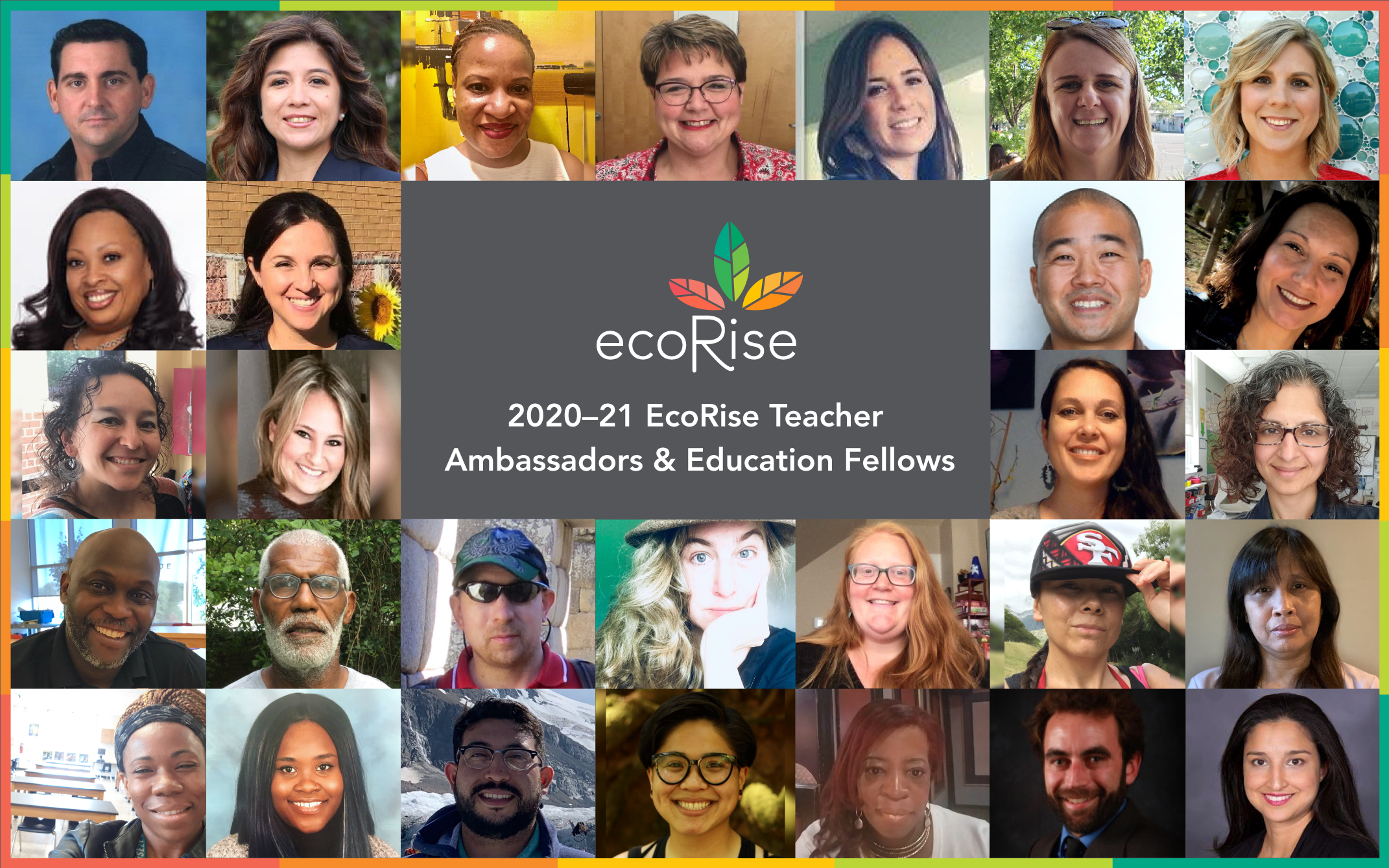 EcoRise is excited to announce our 2020–21 cohort of Teacher Ambassadors and Sustainability Education Fellows. The purpose of the EcoRise Teacher Ambassador program is to recognize trailblazers in sustainability education and cultivate a national community of like-minded individuals. EcoRise is fostering a support network of passionate and talented educators focused on improved environmental issues through social change.
29 outstanding educators from across the country were selected from a competitive pool of applicants to represent EcoRise, inspire change, and empower other teachers in their communities to ignite a new generation of green leaders. The new ambassadors are a diverse group of educators with a strong commitment to the EcoRise mission and core values of being leading-edge, building camaraderie, embracing integrity, practicing resilience, cultivating gratitude, and striving for equity. Our new ambassadors teach grades PreK–12 and hail from nine different regions across the United States from New York City to San Francisco, California to the Rio Grande Valley in Texas.
In preparation for an unprecedented school year, EcoRise hosted the 3rd Annual Summer Institute virtually for the first time ever! The 2020–21 Ambassadors, Education Fellows, and EcoRise staff convened over three-days for an interactive learning experience July 27th–29th. This event was made possible thanks to the Lakeshore Foundation, Love Tito's, and Southwest Airlines. The Summer Institute provided professional learning opportunities to the Ambassadors and Fellows where they strengthened leadership skills, dug into environmental justice, explored remote and outdoor learning strategies, deepened knowledge of EcoRise's resources, and networked with like-minded educators from across the country. The three-day institute inducted the attendees into a highly engaged and supportive community prepared to effect change and empower students and teachers in each of their communities.
Although we convened virtually, this year's Summer Institute was the best one yet! In reflecting on the event, one Ambassador said "Thank you for your continued support of environmental and sustainability education. This year we also learned about environmental justice and how to teach this critical concept to our students. I am so grateful for these tools and the connections made with inspiring educators across this country!" Another Ambassador commented "Thank you so much for providing this opportunity for teachers to hone our skills, collaborate with others, and explore how to increase sustainability education in our classrooms!! This is one of the best PD's I've ever attended…I'm so excited to implement all that I've learned!"
EcoRise is extremely proud to be represented by such an amazing group of educators. To learn more about each of the 2020–21 Teacher Ambassadors, click here.
The 2020–21 EcoRise Teacher Ambassador and Cohort Includes:
EcoRise Education Fellows
David Ward—4th-grade math and science teacher at Joe Lee Johnson Elementary School in Round Rock Independent School District, Round Rock, Texas
Denise Ortiz—AP environmental science teacher at New Braunfels High School in New Braunfels Independent School District, New Braunfels, Texas
Vielca Anglin—Biology, environmental science, and STEM teacher at City-as-School High School in New York City Department of Education, New York, New York
Fourth-Year Ambassador
Mary Ann Settlemyre—STEAM and outdoor education coordinator at Centreville Elementary School in Fairfax County Public Schools, Centreville, Virginia 
Third-Year Ambassadors
Christine Mederos—Kindergarten teacher at St. Elmo Elementary School in Austin Independent School District, Austin, Texas
Second-Year Ambassadors
Aimee O'Brien—4th-grade teacher at Chacon Language and Science Academy in Sacramento City Unified School District, Sacramento, California
Allison Bearden—Math and science instructional specialist at Tomball Intermediate School in Tomball Independent School District, Tomball, Texas
Cherice Green—Urban Ecology Career Academy lead teacher at Friendship Technology Preparatory Academy, in Friendship Public Charter School, Washington, DC
Denisse Ochoa—Librarian at North Early College High School in Pharr-San Juan-Alamo Independent School District, Pharr, Texas
Ed Yoo—Biology and AP environmental science teacher at Codman Academy Charter Public School, Dorchester, Massachusetts
Isabel Anaya—5th-grade teacher at Kuentz Elementary School in Northside Independent School District, San Antonio, Texas
Jennifer Humphrey—Science and environmental science teacher at Nimitz Middle School in Northeast Independent School District, San Antonio, Texas
Lyndsey Hurley—Math and science instructional specialist at Krahn Elementary School in Klein Independent School District, Klein, Texas
Rosalie Patel—Pre-K teacher at Boone Elementary in Austin Independent School District, Austin, Texas
Sabina Malkani—3rd-grade science and literacy intervention at Bruce-Monroe Elementary School at Park View in DC Public Schools, Washington, DC
First-Year Ambassadors
Anthony Allard, Green Building Program Ambassador—Engineering teacher at Dunbar High School in District of Columbia Public Schools, Washington DC
Earl Gray—Sustainability coordinator at Harlem Renaissance High School in New York Department of Education, New York, New York
Geoff Hockert—Social studies teacher at Brooklyn Academy of Science and the Environment High School (BASE) in New York Department of Education, New York, New York
Kelly Knight—Environmental science teacher at Katy High School in Katy Independent School District, Katy, Texas
Kendra Heffelebower —Math and STEM coach at C.W. Harris Elementary School in District of Columbia Public Schools, Washington DC
Marisa Varalli—Spanish teacher at Balboa High School in San Francisco Unified School District, San Francisco, California
Mylene Garcia—Chemistry and environmental science teacher at Benjamin Banneker High School, in District of Columbia Public Schools, Washington DC
Nicole Nicholson—Biology, environmental systems, and AP environmental science teacher at Klein High School in Klein ISD, Klein, Texas
Octavia Wolf—5th-grade English/language arts and social studies teacher at West Elementary School in District of Columbia Public Schools, Washington DC
Steven Morris—6th-grade social studies teacher at Martin Middle School in Austin Independent School District, Austin, Texas
Sunshine Roque—Biology teacher at Abraham Lincoln High School in San Francisco Unified School District, San Francisco, California
Tracy Joseph—4th-grade math and science teacher at the Martin Luther King, Jr. K-8 school in Boston Public Schools, Boston, Massachusetts
Tristan Holyoke—Life skills teacher at Linder Elementary School in Austin Independent School District, Austin, Texas
Victoria Galvan-Garcia—World geography teacher at North Early College High School in Pharr-San Juan-Alamo Independent School District, Pharr, Texas