In an era where more parents and educators want environmental literacy and environmental justice to be taught in the classroom, EcoRise is proud to be working with trailblazing, environmentally minded educators who are bringing climate action to life in communities across the U.S. Each year a group of dedicated educators is invited to join the EcoRise Teacher Ambassador program to hone their leadership skills and amplify their collective impact. EcoRise Education Fellows are experienced Ambassadors that play a larger role in mentorship and leadership throughout the year-long Ambassador program.
EcoRise is excited to introduce you to the 2022–2023 cohort of two Teacher Fellows and 26 Teacher Ambassadors. We selected outstanding educators from across the country from a competitive pool of applicants to represent EcoRise, inspire change, and support other educators in their communities to integrate climate education into their classrooms this school year. Those selected teach grades K–12 or are support staff in their districts and hail from 11 different regions across the country from New York City to Sacramento, California to the Rio Grande Valley in Texas.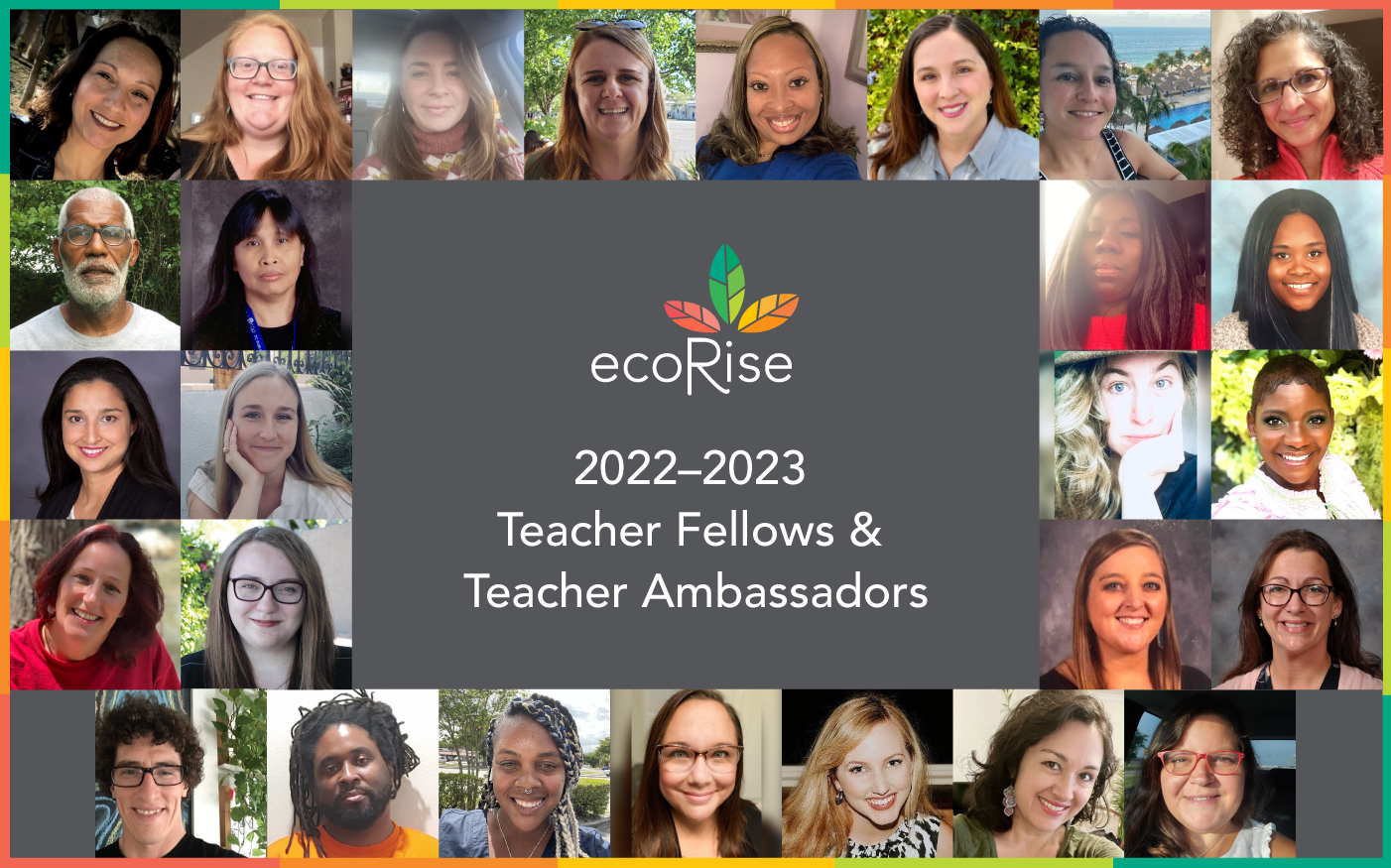 The Fellows and Ambassadors are a diverse group of teacher leaders who support EcoRise's mission, embody our core values, and are dedicated to activating students as changemakers in their communities. This cohort is joining a national support network of passionate and talented educators focused on improving local environmental issues through social change by working with youth, adults, and community partners.
This year's Teacher Ambassadors came together as a team at EcoRise's 5th Annual Summer Institute July 24th–27th, in Austin, Texas. Connecting in person after two years of hosting the Institute virtually was a momentous occasion filled with joy, inspiration, and gratitude for first-time and returning Ambassadors. The event was made possible thanks to the Lakeshore Foundation, Love Tito's, and Southwest Airlines. During the professional development experience, Ambassadors strengthened leadership skills; dug into environmental justice; explored design thinking, using climate data, systems thinking, and storytelling strategies; and networked with like-minded educators from across the country.
One Ambassador reflected "Thank you so much for giving us the ability to connect with like-minded educators around these important issues…I feel like I am part of a community of educators who are working towards creating the world in which we all want to live." While another Ambassador said "This is by the far the most amazing professional development opportunity that I have ever been a part of in my 14 years of teaching in the classroom! I have never felt more appreciated! Thank you for your support." We're all looking forward to a great school year!
The 2022–2023 EcoRise Teacher Ambassadors cohort includes:
Long-time Teacher Ambassadors, first-time Teacher Fellows
Isabel Anaya—5th-grade teacher at Kuentz Elementary School in Northside Independent School District (ISD), San Antonio, Texas
Kendra Heffelebower —Math and STEM coach at C.W. Harris Elementary School in DC Public Schools, Washington DC
Fifth-Year Ambassador
Christine Mederos—Dual language teacher at Bedichek Middle School in Austin ISD, Austin, Texas
Fourth-year Ambassadors
Aimee O'Brien—4th-grade teacher at Chacon Language and Science Academy in Sacramento City Unified School District (USD), Sacramento, California
Cherice Green—Innovation Coordinator at Friendship Technology Preparatory Academy, in Friendship Public Charter School, Washington, DC
Denisse Ochoa—9th–12th Librarian at North Early College High School in Pharr-San Juan-Alamo ISD, Pharr, Texas
Jennifer Humphrey—Science and environmental science teacher at Nimitz Middle School in North East ISD, San Antonio, Texas
Sabina Malkani—3rd-grade science and literacy intervention at Bruce-Monroe Elementary School at Park View in DC Public Schools, Washington, DC
Third-year Ambassadors
Earl Gray—Sustainability Coordinator at Harlem Renaissance High School in New York Department of Education, New York, New York
Mylene Garcia—Chemistry and environmental science teacher at Benjamin Banneker High School, in DC Public Schools, Washington DC
Nicole Nicholson—Biology, environmental systems, and AP environmental science teacher at Klein Forest High School, in Klein ISD, Klein, Texas
Octavia Wolf—5th-grade ELA and social studies teacher at West Elementary School in DC Public Schools, Washington, DC
Victoria Galvan-Garcia—World geography teacher at Pharr-San Juan-Alamo Early College High School located in Pharr-San Juan-Alamo ISD, San Juan, Texas
Second-year Ambassadors
Alexandra Dowd—Aquatic science teacher at New Braunfels High School in New Braunfels ISD, New Braunfels, Texas
Kelly Knight— Environmental science instructor at Katy High School at Katy ISD & adjunct faculty for Houston Community College's Department of Astronomy and Physics in Katy, Texas
Tasha Messer— First grade teacher at Oak Grove Elementary school in Dekalb County School Distict, Atlanta, Georgia
Tina Coba— Instructional Specialist at Volma Overton Early College Prep in Austin ISD, Austin, Texas
First-year Ambassadors
Aimee Quinn—Biology teacher at Tempe High School in Tempe Union High School District, Tempe, Arizona
Alaine Fowler—4th grade math and science teacher at Highland Park Elementary School in Austin ISD, Austin, Texas
Amelia Cook—Earth science, biology, and AP environmental science teacher at Norman High School in Norman Public Schools, Normal, Oklahoma
Chris Donnelly—Environmental science career and technical education teacher at Boston Green Academy in Brighton, Massachusetts
Garth Marchant—Living environment, biology, and after school science teacher at Fannie Lou Hamer Freedom High School in New York Department of Education, The Bronx, New York
Kadie Goodwin—Environmental science teacher at Lake Worth Community High School in Palm Beach County Schools, Lake Worth Beach, Florida
Kathryn Jimenez—4th grade teacher at Boldt Elementary in Northside ISD, San Antonio, Texas
Laura Berenguer—Special education teacher at Robert Renick Educational Center in Miami-Dade County Public Schools, Miami Garden, Florida
Micah Stover—OKC harvest garden educator at Bodine Elementary School in Oklahoma City Public Schools, Oklahoma City, Oklahoma
Nina Acevedo—Sustainability coordinator at the Magnet School for Math and Science Inquiry (PS/IS192) in New York Department of Education, Brooklyn, New York
Toni Brooks—6th grade teacher at Durant Intermediate School in Durant ISD, Durant, Oklahoma
EcoRise is extremely proud to be represented by such an amazing group of educators. To learn more about each of the 2022–23 Teacher Ambassadors, click here.