Youth council members will work with the city to deepen community engagement with the San Antonio Climate Action and Adaptation Plan and local sustainability strategies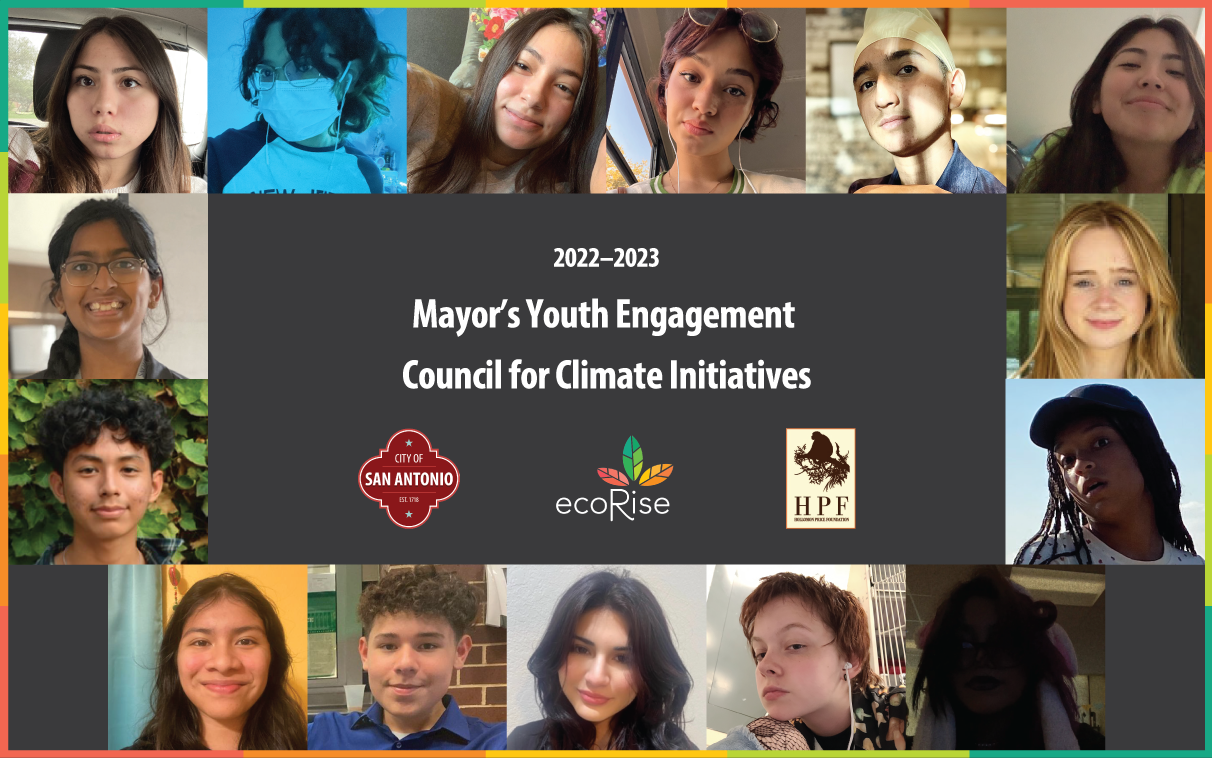 San Antonio, Texas, November 22, 2022 — As climate disasters increase in frequency, there is more reason than ever to engage the next generation in generating climate solutions and community resilience. To bring new ideas to the table and engage youth in this work in San Antonio, the Mayor's Youth Engagement Council for Climate Initiatives welcomes its third cohort of 25 local youth, representing each City Council district and 18 different schools, including public, private, and charter schools. The mission of the Council is to empower San Antonio's next generation of climate champions with the tools they need to engage in community issues around climate change, environmental policy, and environmental justice.
Council members will learn about sustainability, civic procedures, environmental justice, and how these relate to improving their community's health and well-being. They will use Y-PLAN (Youth – Plan, Learn, Act, Now), an award-winning educational strategy, for tackling real-world challenges through project-based civic learning experiences to develop climate solutions, inform local policy, and engage their communities in local sustainability initiatives. Council members will also have opportunities for professional development, sharpening communication skills, and networking with professionals as well as youth council members from other regions throughout the year.
"[As a member of this council,] I hope to make a difference in my community that actually creates change for the better. That in my lifetime I want to make a difference that has helped the earth, people, and the animals that live on it. I hope to volunteer and create movements to inspire others to help fight climate change." said new council member from Lee High School.
"Our young residents are stepping up to participate in the local climate conversation and are joining people all over the world who want to ensure their communities are resilient in the face of present and future challenges," said San Antonio Mayor Ron Nirenberg.  "I am proud they are using their voices to advance our critical sustainability work in San Antonio."
"Elevating youth voices and facilitating intergenerational exchange is a critical component in the work of improving environmental conditions for all people," said EcoRise Youth Programs Director Brittany Jayroe. "Youth offer an incredibly unique perspective on our current climate and environmental justice challenges and should play a key role in designing the solutions that will impact them for decades to come."
Council members will be paired with community-based mentors according to their interests, whom they will work with throughout the academic year. Mentors will be a resource for and collaborate with students on their community impact projects. EcoRise is still seeking highly engaged leaders in San Antonio to serve as mentors to this year's council members. If you are interested in this opportunity, find more information here and apply here.
The Council was started in 2020 to foster and include youth voice in the execution of the City of San Antonio's first Climate Action and Adaption Plan (CAAP) which was adopted on October 17, 2019. Since its inception, the Council has been led and facilitated by the sustainability education non-profit, EcoRise, with support from the City of San Antonio Mayor's Office and the Office of Sustainability. There is a strong focus on engaging youth of color and students that have been historically underrepresented in the environmental movement. In 2021, Mayor Nirenberg received the Honorable Mention in the Large City Category of the Leadership on Climate Action United States Conference of Mayor's award due to the positive impact of the Council.
The San Antonio Mayor's Youth Engagement Council for Climate Initiatives was made possible by a grant from the Hollomon Price Foundation. For more information on the City's Climate Action and Adaptation Plan, visit www.sanantonio.gov/sustainability. For more information about EcoRise and last year's council, visit https://ecorise.org/youth-programming/myecci-climate-action/.
###
About the City of San Antonio
San Antonio is a vibrant city with a thriving economy, deep cultural heritage and communities that are compassionate, inclusive and proudly diverse. It is the seventh largest city in the United States and one of the strongest fiscally managed cities in the country, nurturing entrepreneurship, encouraging investment and funding infrastructure. The City fosters partnership and growth opportunities in aerospace, bioscience, cybersecurity, green technologies, healthcare, and information technology. San Antonio's famed Riverwalk and Alamo are the top tourist attractions in Texas, and its historic missions are a designated World Heritage Site – the first and only in Texas. Proudly called Military City, USA®, San Antonio is home to one of the largest populations of active duty military and veterans, as well as mission-critical commands, including military medicine, cybersecurity, pilot training and basic training. For more information, visit SanAntonio.gov and follow @COSAGov on social.
About EcoRise
EcoRise mobilizes a new generation of leaders to design healthy, just, and thriving communities for all. The national non-profit organization elevates student voices and advances student-led solutions to real-world challenges with programs focused on environmental literacy, climate justice, and equitable access to green career pathways. EcoRise is currently supporting more than 8,400 teachers and 467,000 students through a range of curricula, programs, and grants. To learn more about EcoRise, visit ecorise.org. 
Media Contacts
Laura Fuller, EcoRise
laura@ecorise.org